Company Profile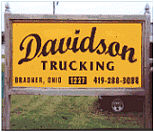 Davidson Trucking Inc., is a Customer Service Oriented Company. We are located in Bradner, Ohio right off State Route 6 and State Route 23.



Our Drivers are professionals, not limited to driving the truck. Delivering your freight in top quality condition to your customers is our drivers primary concern, along with proper loading and securing of your freight. We deliver with personal pride.



Our Trucking operation consists of well-maintained powerunits and 53' air-ride van trailers. Most of our trailers are insulated with logistic post for securing your freight.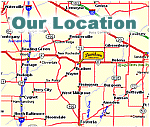 Our Warehouse operation enables us to better serve our customers. With 54,000 square feet of space & five dock doors, we can warehouse and distribute your freight in various directions as your customers require delivery.



Our Billing Dept. is now available to scan your invoice and paperwork and email it. Email angela@davidsontrucking.com to enroll.




If you would like more information about our
services or rates please call Dan or Don.


We look forward to talking with you and being your carrier of choice.
Get Adobe® Reader